I am absolutely delighted about the feedback from my Art exhibition.
It was wonderful that I got to showcase all my work  "Celebrating Life post – pandemic" Collection.
It was so colourful and bright and between the artwork and the stunning flower arrangements done by my Friend Julie-Anne Kelly .It created such a beautiful and very happy atmosphere which is exactly what I wanted.I loved the upbeat  instrumental music in the background too.
I would like to thank each and everyone  of you who came and supported me, at Rathsallagh Golf Club on the 10th July.I am  just so happy my Art is now hanging in your homes and that you get to enjoy it on a daily basis.
I will start a new collection very soon ….!
But for the rest of the Summer , I am taking a well deserved break away from the canvas and brush and I am going to spend some fun time with my 4year old ,bestie Ava!! .This warm weather is just fantastic and the paddling pool is out heating up .
I  will be back painting with gusto soon,
.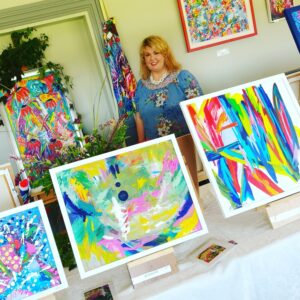 Chat soon,
Hazel
x